Don't Replace it, Restore it!

-Decks and Fences

-Outdoor furniture

-Wood sealing and staining

If your deck looks a little dingy, cleaning it can help. But to really get your deck in shape, you also need to seal it. Constant exposure to UV rays and rain can cause neglected decks to fade, crack, split and warp. Additionally mold, fungus and mildew spores attach themselves to exterior wood,vinyl or aluminum surfaces. As they grow and thrive, they leave stains and discoloration. Left untreated, exterior surfaces can crack up, split, rot and/or decay causing expensive repairs. Our method removes these harmful elements from your home or deck using a gentle and safe low pressure process that is 100% biodegradable. This process is not harmful to plants, pets or humans and will not damage wood grain or stucco. This is a two step process of cleaning and sealing with a period of 24-48 hour drying time in between applications.

Most decks will need to be treated every 2-3 years. However, if there is excessive sun exposure it may dry out quicker, and similarly, if there is no sun exposure it may start to mildew from too much moisture. Damage can happen quickly, therefore your deck should be examined regularly and treated in a timely manner in order to maintain the life of your deck.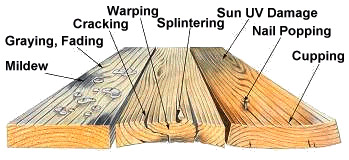 Don't wait all the above to happen to your deck .
contact us !
Nantucket power washing , Nantucket pressure washing